Appello di un'amica da İstanbul di Roberto Mannai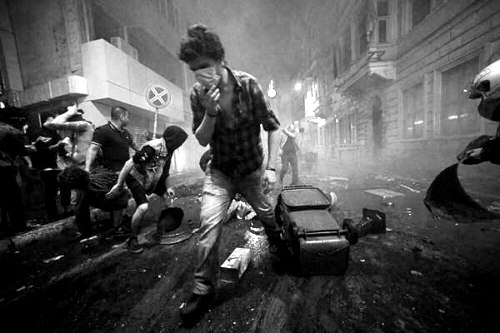 Dear friends,
I think you have already heard about resistance in Turkey specially in İstanbul since last 15 days.
As Turkish media doesn't give almost any right news I want to give you some brief info about current situation in İstanbul.
With lots of you I have been talking about the gouvernment and their politics. Since few years its getting more authoritarian. 15 days ago a pacifist protest started to protect a parc in the heart of İstanbul in Taksim. This protest is not only for the parc, it is against authoritarian (restriction of alcool, abortion, pression on media, minorities, students, lawyers, artists, journalits……., liberty of expression, briefly try to rebuilt all part of our life with the restrictions) neo-liberal politics (urban transformation projects against to environnement, history of the city and fire the poor people out of the city to built shopping mall, hotels…) of gouvernement.
Unfortunately any declaration of gouvernement and Turkish media are true. Police is so violent using tear gas, water cannons (not using water, some strange chemicals with water) and sometimes plastic bullets .3 people died. Lots of people are injured. Even lawyers were in custody. But we still resist in a
 pacific 
way. Gouvernment doesn't give any hope to understand, negociate or solve any problem. They just try to provoke people to create caos for legitimate violent police intervention.
I have still lots of things to say but it is all for now.
We would appreciate if you will be aware of the situation and tell around as an international lobby.
Thank you for your support